A week of Canadian Ice Climbing


March 4-9, 2013
Previous Page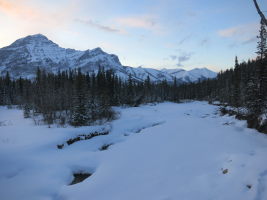 This March, I went back to Canada to see my parents and my buddy Karen came up for a few days of ice and good eatin'. The trip started off with what could be seen as bad luck for an ice climber in Canada - a 40cm+ dump of snow, which is very uncharacteristic for the East Side of the Rockies for this time of year... and the avalanche danger skyrocketed to High, making most climbs in the Banff area out of the question (which tends to be the case much of the time I suppose). Making do with what we've got, we drove to Lake Louise for a day of powder skiing at the resort on Sunday. I even rented some obscenely fat skis (110cm underfoot), though too many monkeys at the resort meant that things got skied out pretty quickly. Anyway... now onto the ice!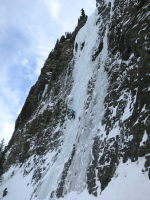 We debated what to do on Monday, and we thought of skiing into Whiteman Falls and Redman Soars in Kananaskis, climbs that I love, but every time I dread the 5km slog in on an unplowed road. With tired legs from a full day of skiing without even much of a lunch break the previous day, we had trouble getting out of bed early, and even after that challenge was surmounted we proceeded to spend over an hour at the Summit Cafe in Canmore eating a huge breakfast. Yeah, we're slackers. The resulting low motivation brought us to Evan Thomas in Kananaskis, a significantly shorter approach than Whiteman Falls, with similarly low avalanche danger which was the ticket. Our noon start meant that a couple of guided parties were already finished when we arrived, and we did Moonlight followed by 2 Low 4 Zero which sports some protection bolts as of recent. A highlight of the day was playing with an awesome dog at the base and running into a moose on the trail on the way out - cool!
Tuesday had us eyeing the Ghost, another place with low avalanche danger. The drive was mostly easy with the exception of an unexpected crux - the blue bridge area at the very beginning had flooded, and the resulting ice lake had many trucks breaking through and getting stuck. With some luck and scouting on foot first, we made it through. Rainbow Serpent, rare to form, was formed this season and climbed many times earlier (from November to February), so we hoped to get to do it... also being only two pitches our 11am start from the parking lot seemed appropriate. Of course, one has to climb Aquarius in order to arrive at the base (a 55m pitch of WI 4 needed to access the location). It turned out the top 20 feet of Aquarius were missing ice, and drytooling the slabby rock with no rock protection was beyond us. A party of Maine later informed us that the pillar was cracked leaving a 10" gap and leaning 16", so maybe it was best that way - yikes, too sketchy at this point with the warm temperatures.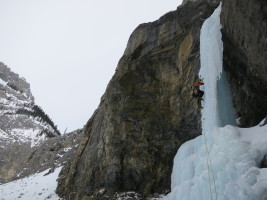 Somewhat discouraged by our luck so far, on Wednesday we decided to shift gears and try to do a link up I've wanted to do for a long time (now assisted by longer days).. the two reliable friends in the Ghost - Sorcerer and Hydrophobia. Despite a super early start from Calgary at 6:30am, another truck from Maine had tent camped there and beat us to the start! (yes, two parties from Maine in the Ghost, as luck would have it). Since we were planning on doing Sorcerer first and walking along the ridge to reach Hydro (instead of slogging through the trees), we now had to pick Plan B. The Fist and the Fang were just the ticket - so we kept driving down to Claw Creek, and did this fantastic climb - you really can't go wrong in the Ghost. The sun even came out on the last pitch, making us really feel like we are on vacation...
With early starts and several late nights in Calgary, we were really feeling the effects of lack of sleep, so on Thursday we just bummed around MEC and Calgary coffee shops before going to the Rampart Creek Hostel for the night. Isolated with no distractions, the much needed sleep came earlier.
On Friday we climbed the Weeping Wall + Weeping Pillar, 6 long pitches of beautiful plastic ice... pictures can't do it justice - it's incredibly nice... and it's really hard to pack so much sustained ice in a single day otherwise (but especially with near-zero walking!)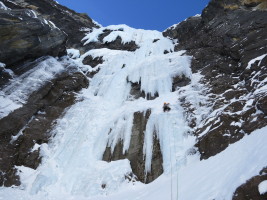 And on our last day of the trip, Saturday, we wanted to go to the Stanley Headwall in Banff to either do Nemesis or French Reality (or at least try it). Turns out that another party was on French Reality, and we arrived at the same time as another car, with 3 energetic guys from Calgary who were also eyeing Nemesis (or a potential mixed climb, they were unsure if it was formed). We ended up happily sharing the climb with them, by doing two independent lines (left and right) - the climb is wide enough to accomodate two parties climbing simultaneously in this way. It was pretty cold in the morning, probably -10 to -15 C as we started the skin up, but warmed up a bit. The ice was brittle and had no recent traffic on the right side making for a lot more challenging climbing than the Weeping Wall... different, but lots of fun. It was a lot nicer and warmer than the first time I went there (-30 to -20 C on that December day).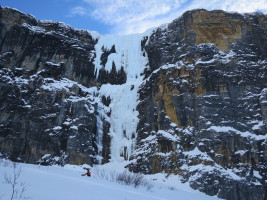 With skis this time, the descent was awesome - the heavy packs made it a bit challenging, sure, but it was still a lot nicer than walking... we made it back to the car in about 45 minutes. Awesome finish to a great day and great trip of Canadian ice! Following Weeping Wall/Pillar by Nemesis is pretty hard to top for the ice lover. Sunday had us flying back to San Francisco... and the Yosemite season is already starting!
Moonlight & Snowline in Kananaskis
2 Low 4 Zero
Scratching up rock on 2 Low 4 Zero
Just past the crux
Walking out of Evan Thomas
Evan Thomas Creek
Kaia, a super cute and friendly dog we played with at the base of Moonlight.. she was from Canmore
On the walk out, we ran into a moose! And then saw another one in the trees..
Approaching Aquarious, hoping to climb Rainbow Serpent, with a late start
Aquarious - very fat at the bottom, but ended up having a 20 foot bare section of rock on top..
Aquarious, the only way to access the Recital Hall
Walking along the first Ghost Lake
The Fang and the Fist in very fat condition
F & F
Karen starting up F & F
Awesome ice and position
On the second pitch (2 & 3 can be linked with 70 meter ropes)
Walking out...
The Good, the Bad and the Ugly (GBU)
The Weeping Wall (Lower and Upper Wall) - a *huge* amount of ice!
Starting up the Lower Weeping Wall (we usually do the Center line, but to save time we did the right side this time)
Blue bird day in the Canadian Rockies!
View from the top of the Weeping Wall/Weeping Pillar
What a beautiful place..
Rappelling down
Skiing up to Nemesis - behind another party!
Starting up Nemesis, we had to climb the right hand line which added a bit of difficulty
Belay cave
Two amigos from the other party of 3
Starting up the last long pitch from the mid-way ledge
Rappelling down - we added our own ski tracks shortly after
Some wet loose avalanches happened on the south side
Nice view from the top of Nemesis
Some old bolts in the left side cave (we rappelled down that way)
What years of exposure to the Canadian Rockies elements will do to you...
Rappelling down
Preparing to ski down after climbing
Nemesis - what an awesome climb
Nemesis and Suffer Machine on the right (almost never formed to ground)
Skiing down was pretty fun
Powder turns - almost
Skiing is definitely the way to go up there..
The badass Stanley Headwall
Stanley Headwall - wow
French Reality (right) and other hard mixed climbs to the left.
Exciting bridge crossing with skis
The last leg of the biathlon
The snow was very variable here, making for challenging skiing with a heavy pack..
Previous Page