Tuolumne and Yosemite weekend (and Natalie's bday)


Eichorn Pinnacle, W face direct (5.10b)
Glacier Point - Apron Jam (5.9), Haley Daley (5.8)
October 22-23, 2011
Previous Page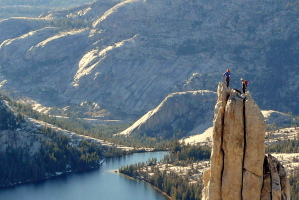 Getting thunderstormed off of Eichorn Pinnacle last year was NOT fun... but this time the weather gods smiled upon us - despite it being late October, it was gorgeous! We started climbing around 1:30pm after the West Face had gotten in the sun - which made for tshirts all the way to the summit! At one point I was so warm at one of the belays, I was seeking shade by putting my head in the chimney... hard to believe it was October! I stratched the rope in the upper parts and we did the climb in 4 pitches. Of course, rappelling down the other side we found snow and contrasting temperatures... the car thermometer showed 38 degrees when we arrived just after it had become dark. The coolest part is that a couple of guys had scrambled up to Cathedral Peak just as we topped out on Eichorn, and they got a bunch of really cool photos of us on the summit. And because it was a calm, windless day, I shouted my email address to them... and James gratuitously emailed me the photos the next day - thanks man!! This is the type of stuff that you couldn't plan with such timing even if you tried!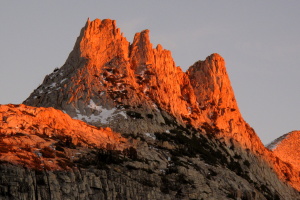 We rushed to the valley and had dinner/drinks at Natalie's birthday celebration party... eventually crashed in the group sites in Upper Pines (has to be one of the worst campgrounds ever...)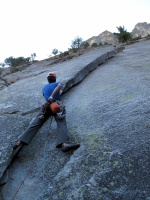 On Sunday, we slept in and wanted to do Serenity/Sons, but of course the prospect of waiting in line was not appealing. After breakfast at Church Bowl where we ran into Will (cool!), we motivated ourselves to go to Glacier Point Apron which we somehow had never been to before. We did Apron Jam, a stout 5.9 and then walked over to Haley Daley while eyeing some of the extremely difficult slab climbs in the vicinity... yikes! We finished the day by relaxing with the El Cap layback before driving home, an end to another beautiful Fall day in California.
Hiking up to Eichorn, with Cathedral Lakes in the background. It's 1pm... alpine starts are important in late October :)
Eichorn W face, from the base of the route
Geared up and ready to go
The route follows the obvious wide crack for the first pitch
Cathedral Lakes
It's not really an offwidth, as it's possible to stem around on Tuolumne granite knobs
Finishing the first pitch. Tank top in Tuolumne on October 22nd! I was sweating...
The next pitch has two choices. We went left, up 5.8 cracks leading to an awesome 5.10 roof/finger crack.
The ridgeline
Second to last pitch
Still warm!
Summit register
Chris Chan memorial
Cathedral Peak. If you zoom in, you can see the two guys who took our pictures!
Tuolumne.
Budd Lake
Cathedral Peak with Budd Lake in the background
Topping out on Eichorn, photo from Cathedral Peak
Thanks so much for the photos, James!
Unicorn Peak basking in the evening light
Starting up Apron Jam, a strenous 5.9 at Glacier Point Apron
After laybacking the lower section, there is a rest and it gets a bit easier
Finishing the pitch
Starting up Haley Daley that we had never done
The upper pitch is all sweet jams
Half Dome, with the Zig zags and visor visible perfectly from this angle
Previous Page