Ice Climbing in Norway


January 23-30, 2011
Previous Page


View Norway Ice 2011 in a larger map
Flight/arrival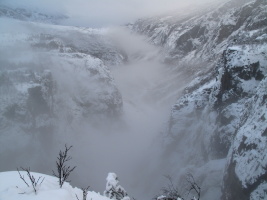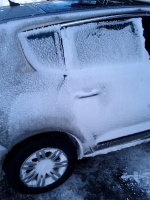 After two sleepless flights, we got into Oslo in the late afternoon on Saturday. We picked up our rental car (hoping for the audi A3, we got a peugeot 3008...) and drove straight to Eidfjord, about 5 hours away. I couldn't help but fall asleep in the passenger seat initially, but that recharged me a bit, and I drove the last hour and a half - pretty epic overall, getting into Eidfjord at nearly midnight after many hours on the go. Winter tires are common in Norway and come on all rental cars, which made overall driving much safer and a pleasure (a difference from Italy last year!) - they don't salt the roads in Norway either, which makes things extra spicy.
The adventure started right away, as soon as we arrived in Eidfjord - we knew we were staying in "apartment #4" and had an approximate address, but no clue how to find it. There were a few houses that all looked the same/at the same address, and after entering someone's living room mistakenly, we found the correct one. The owner (Knut) had thankfully left the keys inside, and the apartment unlocked. The place was a bit run down (considering the $100 price tag), but it was ok. On Sunday morning, we wanted to get some breakfast, and soon found out that the town doesn't have a restaurant. Not only that, but the only grocery store is closed on Sundays (this was true in all of Norway) - ouch!! After a brief panic, we found that the gas station had some food - which made 7/11 look delicious. After stuffing ourselves on gross and unhealthy food, we shrugged it off and went in search of ice - we didn't come here to eat gourmet after all!
The first place we hoped to climb was Mabodalen. After sorting out how to get there/where to park, we slogged in through deep snow and took a look at the top of the canyon. Things didn't look good, almost none of the climbs were formed... after trying to figure out what our options are, we decided to jump to plan B - and find the approach/place to park for Skykkjefossen, a climb in Simadalen, which we were hoping to try the next day. We spent over an hour trying to figure out which road to drive on - the instructions we'd written down had the wrong road number (or rather, a different one from our paper maps), so we had to ask for directions, and of course nobody knew. Eventually we found what we believed was the trailhead, and with dwindling twilight we hiked up the road with no backpacks, hoping to see if the climb is in condition. Half an hour later we still didn't get a view, the terrain didn't make sense (no place for a large ice climb!), and it was pretty dark, so we turned around. We probably just didn't go far enough... (read this trip report from a week later after the area got a lot of snow + rain!)
That night, it started raining and was +5 C, which isn't ideal for ice climbing, so we started thinking of moving somewhere completely different, as this area seemed to have nothing for us at this time. Luckily, we ran into 3 very friendly guys from Finland, including Antti Mankinen who lives in Oslo and gave us some local information. We owe them a lot, as they pointed us in the right direction given the conditions!
---
Day 2: Gol/Hemsedal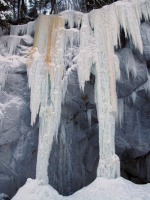 On the next day, our plan was to get up very early, and go to Hemsedal, where we wanted to climb the famous Hydnefossen. This would again turn out to be a bust. We got woke up early to misting rain and +4 C, confirming our decision to leave Eidfjord... and started driving around 6:30am. However, half an hour later we came upon a closed road. There were no alternate ways (within a reasonable distance), and the highway worker told us it's going to be about 1 hour of waiting. After an hour, two huge snowplows arrived - they would provide us an "escort" through the road. After another half an hour of waiting, we were instructed to put our flashers on, and follow closely behind the first plow, with the 2nd one right behind us (in case we got stuck). At the top of the pass it was snowing, and there were high winds creating big drifts on the road - in one section, the plow was clearing about 2-3 feet of snow right in front of us! It was key to stay right behind, or risk hitting the deep snow. After one and a half hours of exciting driving, we got to the other side. This showed us one place where the high Norwegian taxes go... quite amazing that they do all of this for 1 car!
Needless to say, the delays in driving meant we abandoned our plans for Hydnefossen that day. The Finnish guys told us about a small "cragging" area near the town of Gol, so we headed there instead. After some back-and-forth we found it, and climbed our first two pitches of ice on the trip - it was great!
In the evening, we finished the drive to Hemsedal, which is a popular ski town. We thought this place would finally have other people, and we'd be able to find decent food - but it too was mostly deserted, and most of the hotels were closed for the winter, or had phone numbers to call on their doors (it was so ridiculous that my writing will not do it justice) - finding a place to stay was proving to be difficult. Eventually, however, we found that the Hemsedal Cafe had apartments for rent, and they were very sweet (and nearly the same price as the one in Eidfjord!) We also visited the local gear shop, hoping to get some recent beta. The guy working there, while very friendly, didn't know much about the ice climbing (when we asked if there is a trail broken to Hydnefossen, he joked "there will be one, on your way down!")
---
Day 3: Hydnefossen attempt
Another interesting day. Due to large amounts of snow, we rented snowshoes from the gear shop. We parked the car, put the snowshoes on, and I started walking towards the climb... not 50 feet from the car, I heard a loud "whoomph" and felt the snowpack collapse all around me. This was on flat ground! We were already concerned about the avalanche conditions, as the approach was steep & exposed at the end, like many ice climbs. This wasn't a good sign... but given that the beginning was in the trees & quite safe, we kept walking just to see. Sure enough, the snowpack was incredibly unstable, and even on 5 degree steep slopes, we experienced more whoomphs and saw cracks shooting away from us. OK, time to change plans!
Slightly frustrated, but happy to be making the right call, we turned around. At this point I also discovered one of the frontpoints on my crampons was broken (from the day before) - I converted it to monopoint for the rest of the trip. We decided we needed to move areas again, near Laerdal/Aurland, and we drove in that direction. On this day of driving we felt like American kids going to Disneyland for the first time! We saw so much ice, so close to the road, that it was bewildering. This is what we came to Norway for!
After scoping out various options, we settled on "Double Whammy", for which we learned from this Scottish blog - a very aesthetic looking double-tier of ice outside of the town of Ardal. As it got dark, we reversed the drive back to Hemsedal, where we had a 2nd night of hotel paid for.
---
Day 4: Double Whammy (near Ardal)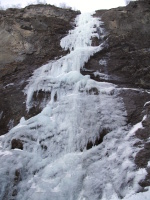 We started the approach as it was getting light, reaching the base of the climb around 9-9:30am. Since there weren't any other pullouts, we had to walk for about 10-15 minutes down the road to get to the gully, which starts right next to the tunnel. As we got near, the climb looked pretty thin at the beginning - very different from the pictures of the lower tier that we had seen on Martin's blog from 2010. In general, it seemed like ice everywhere was thinner this year. Thankfully, because the climb was so much bigger than it looked, the ice was also thicker than it looked... I started the first pitch - very fun blobs of ice attached to the rock wall provided great climbing, with the occasional good place for a screw. Perfect! About halfway up the pitch, I ran into a roof which looked small from the ground, but now it suddenly looked a lot bigger. Additionally, the ice under the roof was quite thin with no place for protection, so it was committing, but secure and really fun. I continued the pitch, going through one more engaging/vertical section with less-than-stellar ice, and found a small cave on the left to belay from. A full 70 meter pitch, sweet! After clearing the ice, I got nestled in there, put my jackets on and brought Karen up.
Karen started up the next pitch, which also proved to be challenging, including a very wet section which ended up turning our ropes into stiff cables. He also went for nearly a full 70 meters - so this first icefall was about 130 meters in length! I got pretty wet following the pitch - when I pulled out one of the ice screws, it released a faucet of water pouring on my legs, which made me rush through that section.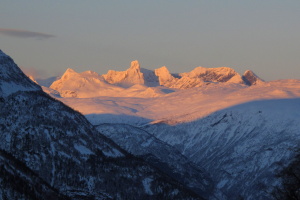 As we walked to the upper section, it was exactly 1pm - similar time to Martin's from the report last year! The ice in the upper section looked good from afar... we felt good and thought we had plenty of time to finish the climb, but the frozen ropes made belaying very difficult. Nevertheless, I started up - again being a bit humbled by the size of everything. What looked like typical mushroom formations on any other ice climb, ended up being European car-sized mondo mushrooms that were fun, but a bit challenging to climb over. I weaved a path, and reached what looked to be the crux - it turned out to be about 30 feet of completely rotten, overhanging ice like I had never seen before. For most of the "curtain", you could see through the ice all the way to the rock in the back. As I was carefully clawing upward trying to find more solid ice, I was realising the futility of my efforts to uncover better ice... there was very little of it. I eventually dug to a solid area and got a screw that allowed my mind to go further, and climbed higher through the overhang. After clearing a whole lot of ice there, I got another screw, and feeling the pump I continued upward to more steep, and then eventually lower angled ice, feeling good to be past the very sketchy ice. I really have never seen such unconsolidated, poorly bonded and overhanging ice... and still wonder what caused it to form like that. After another full 70 meters pitch, Karen started climbing. Belaying was almost impossible due to the frozen ropes, and I was getting extremely pumped just trying to belay from my uncomfortable stance. It was 3:30pm by now and we had one more pitch to go to reach the top of the difficulties, but we decided not to push it, as the ice above looked like it was of similarly poor quality, and we had to figure out where we're going to stay the night, eat, etc. (and knew how much of a challenge that can be!) Content, we started our rappels.
We made it to the base just as it was getting dark, and walked down the gully with our headlamps, back at the car proper at 6pm - and in the restaurant in the Ardal hotel at 6:30pm :) The food there was fantastic, so finally things were working the way we envisioned them - amazing climbing followed by good food!
After dinner, we drove to Flam where we had found "cheap" (700 NOK) apartments. It was the usual: lights off, and a phone number to call... but thankfully, someone answered and came to let us in. If we had climbed late into the night, this wouldn't have been an option, so we were glad to have come at a reasonable time. In the future, I guess we'll base ourselves in 1 area for that reason (which is what we planned to do in Eidfjord anyway, it's just that conditions pushed us further away!)
---
Day 5: Gudvangen/Boafossen
We really wanted to check out Gudvangen, which is supposed to have some 1,000 meter monster ice routes! As expected, it wasn't cold enough for the bottom of the climbs to form, so we mostly drooled at partially formed, scary-looking climbs, including Fosslimonster, an ice climb the size of El Capitan. Too bad they form so rarely! In the afternoon, we stopped by Laerdal and climbed the 100 meter Boafossen, which was just perfect blue ice - pure fun, and made up for the crappy & challenging (but also fun) ice from the day before. :) It also ended up as being two decent pitches in length, longer than it looked!
That night, we made the brutal drive to Rjukan, which I wanted to at least see, and spend a day or two before flying back. It took us close to 6 hours, including a now-familiar stop at a gas station for crap food. Pulling in at midnight, we were looking forward to a night of great sleep. And this brings us to another peculiarity: despite costing $160, the cabin we rented did not include sheets!!! They need to be rented separately, and of course given our midnight arrival, we had no way of renting them. Despite calling the place a couple of hours earlier to ensure they'll leave us the keys, they didn't mention the sheets. Another surprise served to us, Norwegian style, next time we'll have to pack sheets and dried food in addition to the climbing gear! Kenya is more tourist-friendly!
---
Day 6: Rjukan (Krokan ice park)
The plan was to do Juvsoyla, one of the more famous climbs in Rjukan (along with Lipton, which wasn't formed this year) - however, we were to soon find out this climb wasn't formed, either! So we went to the "ice park", where most of the lines were also not formed, but there was enough to play around on for an afternoon...
---
Day 7: Haugsfossen
The next day, we headed to Mael to climb Haugsfossen, the only formed grade 6 in the area (but it was in easier condition). After a long slog through snow to approach it, including some rappels off of trees, we stood beneath it! The guidebook (this area has a guidebook!) warned that the ice is often unstable, and the climb is a serious undertaking... but we found it to be in very friendly condition. The top pitch was a translucent tube of running water, which was very neat - similar to the way Whiteman Falls in Canada forms some years (except longer). It was a great climb, we even wished it was longer. :) In general, Rjukan has a great concentration of short climbs, but the other areas we visited offer much better long climbs. If only there was a way to predict/know conditions in advance to avoid the long drives!
We tried to go to the hot springs that night, but found out they close at 6pm on Saturdays. Seriously!? It's as if businesses in Norway don't actually want to make money.
---
Day 8: Rjukan Gorge
On our final morning we went to the gorge, climbing a couple of fun/short climbs (Vemorkfossen? and Sabotorfossen), after which we drove to Oslo to meet with Bret, an OpenBSD developer living in Oslo who let us crash on his couch for the night. We went out to a restaurant and for a couple of drinks (including a $17 bottle of beer, ouch), and that left us with only 4 hours of sleep, as we had to catch a 6am flight home - double ouch!
And that was the end of a great trip...
The first place we stayed at... funny memories. We called the first number, and a girl answered (in Sweden, apparently...) - it turned out to be the bank account number
When we tried to find the "office", every bell had a "Friedland" sign. Still no clue what it means?
Voringsfossen, a famous summer time attraction
"Rappel 20ft from the souvenir shop", our directions said
The Fossli Hotel seems like a swanky place in summer, but is closed in winter
The gorge where some climbs are supposed to be (but are not formed)
Can't see the gorge due to dense fog (and soon rain)
Famous Voringfossen
We broke knee deep trail in fresh snow, and then it started raining :(
Trying to make sense of the approach to Skykkjefossen near Simadalen, Eidfjord. We hiked for 30 minutes until it got dark, and didn't see the climb. Rain chased us away...
The two plows that escorted us out of Eidfjord in the early morning hours
We could barely see the plow lights for a stretch of the road.. (picture taken at a "good" time)
Our car after finishing the hairy section of the road: plastered
Local shopping cart/mode of transportation
Ice cragging near Gol
This ice was really dry/brittle, surprising for the warm temperature
I somehow broke my crampon this day... (found out later)
Karen starting up the other pillar
Another shot of the pillars
Hydnefossen. We got turned around by scary avalanche conditions (whoomphing and shooting cracks, even on the flats!)
Hydnefossen & the approach slope
Nasty snow
Busted frontpoint. Switched my right one to monopoint as a result...
Driving through a wasteland
Steep road with tight switchbacks
Piece of ice near Laerdal
Closer view of the upper section
But does it continue into the gully? We couldn't tell
Gigantic ice route on the road from Laerdal to Mo. We couldn't get closer, not clear how long the approach would take...
On another trip...
Thorfossen! Will Gadd/Andreas Spak did an M8 pitch to connect the ice, or there may be a way to scramble/traverse around
Note the ice veins. "Double Whammy" near Ardal
Closer view of Double Whammy
Ice above Ovre Ardal
The morning of driving to Ardal. Cold up high on the road from Hemsedal: -27 C!
The town of Ardal as seen on the approach to Double Whammy
The start of Double Whammy. Continuous 130 meters of steep and poor quality ice (Karen for comparison @ the base)
Looks interesting...
Before the roof that formed (bigger than it looks)
Karen starting the 2nd pitch
Bundled up at the belay
The upper half. Looks pretty easy from afar, but ended up a bit desperate
Beautiful position
Beautiful sunset
Karen at our highpoint
Voldefossen (according to a map), seen from the porch of our apartment in Flam
View from our apartment in Flam. Note the thin ice vein in the distance (Voldefossen)!
Apartments with a dock
Scary drip near Gudvangen
Flooded, then frozen
A pitch of ice next to Godvangen
Gudvangen roadside ice
The top half of these climbs looks good (and probably 400-500 meters!)
But the bottom was running water
The famous (or infamous depending on who you ask) Fosslimonster in Gudvangen
A different angle showing Fosslimonster
The top of Fosslimonster (the bottom was missing)
Narrow road
This avalanche looked like it caused some damage due to earlier warm temperatures + rain perhaps
Our rental car next to the debris
Norway in a nutshell?
Beautiful Boafossen, 15 minutes from Laerdal town (about 100 meters)
Starting up Boafossen
Nearing the top of the first pitch on Boafossen
Juvsoyla in Rjukan. Not formed :(
Lipton - not formed :(
Cave with a couple of drytooling routes
A route in the Rjukan "ice park"
A guy on a fun M6 after we just did it, in the dwindling light
The physical crux is at the top
Haugsfossen near Mael, in really fat conditions
The top pitch was a translucent tube with the water running inside it, very cool!
A party on another climb across the way (we ran into them at the hot springs the next day!)
The high volume of water creates the translucent tube
A photo of Haugsfossen from a party across the valley!
The dot is me! Photo by Erik from across the valley :)
A climb in the gorge, on our last morning of the trip
The top pitch of Sabotorfossen, what we did next
Sabotorfossen, lower parts
Looking at the last pitch
Descent is through the power plant
Unique descent
Another climb seen from the bridge
Opera office in Oslo!
Previous Page