Cairns and surroundings


July 17-24, 2011
Back to Australia 2011 index
Back to homepage
When we came off of Hinchinbrook, we drove north to Mission Beach, where we spent the night at a pleasant campground next to the beach. In the morning, we ran along the beach, because hiking didn't feel like enough of an exercise, apparently...

There were cassowary warning signs everywhere in this area, and we drove extra carefully, but didn't see one. There are only 1100 cassowaries in Australia, and they are endangered - so it is apparently extremely rare to see one in the wild. We were fascinated with these birds before even stepping foot in Australia, so secretly hoped we'd see one in its element.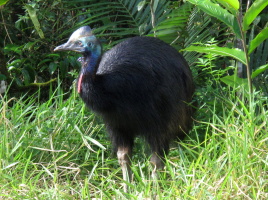 When driving closer to Cairns, another highlight was the Atherton Tablelands area (where we diverged off the Bruce Highway) - that was the highlight of the drive, in terms of natural beauty and things to see. Deep canyons, rivers, and extensive green pastures... we went by 4 waterfalls (on a 'circuit' side road created for this purpose) - and that is where our luck turned, and we saw a cassowary next to the road! We stopped and admired this amazing animal from the safety of our car.
That night, we drove all the way to Daintree Village, where we did a crocodile tour in the morning - and we went up and close to not one, not two, but three big salt water crocs, with our 'Crocodile Dundy' tour guide and electric boat. With that amazing start to our day, we crossed on the cable ferry and went north on Cape Tribulation (interesting history behind the name). We drove to the "end of the road" (actually a 4WD road continues to Cook Town), walked to a swimming hole there, and eventually retreated to our campsite for the night.
The last few days of the trip were also perhaps the highlight: we did a 3 day liveaboard with Pro Dive Cairns, who were ridiculously top-notch in both organization and execution, especially compared to our exact-opposite experience with sailing in the Whitsundays. We heard glowing recommendations for them, and can only echo them to others. In the course of the 3 days we did 11 dives (2 night dives), more than we'd ever done before in such a short time span - which was great, we could definitely feel our skills improving. Additionally, unlike other diving experiences, there was no "dive master" in the water to follow on most dives - we were free to dive whereever and for however long we pleased. Instead, the "dive supervisor" drew topo maps of the reef on a white board each time, and explained the recommended 'route' around the best parts - making everyone a better, more self-sufficient diver. We never did more than 2 dives at the same site, and moved the boat around, which was great. At any point, you could be found doing one of three things: eating, diving, or sleeping - and all of them were equally amazing (oh, and laughing... the jokes from the crew/instructors were almost on par with Chopper Reid at times). And with that, we had to finish our chapter in Australia this time and go back to work, sadly!
The end. Back to Australia 2011
These macadamia nuts were very tasty!
The Outback is called Liberty in Australia, funny
I had lots of LandCruiser envy throughout the trip...
That's where we're going!
Cardwell was hit very hard by hurricane Yasi. Damage to houses was extensive, and this is one of the town statues that collapsed
The 'kitchen' in our van. The fridge was totally awesome to have!
More cassowary warnings
'extremely painful' stings that can last up to 'several months'? ouch indeed!
There's one..
River lookout that we hiked to
The Atherton Tablelands were probably the most beautiful part of our drive!
And... we saw a cassowary in the wild, totally awesome!
Couldn't stop taking pictures of the guy!
Such a bizarre looking bird!
Zillie Falls is another one of the waterfalls on the 'waterfall circuit'
Beautiful drive...
Millaa Millaa Falls
A pretty lake we stopped to eat at
Cool trees
The smoke from the sugar cane fires made for spectacular sunsets
There was a huge croc about 50 meters from this sign!
Our small but quaint electric boat and crocodile hunter tour guide
It only took about 2 minutes to see this fellow!
He was soaking up the sun and didn't take his eyes off of us
He's chubby :)
The Daintree river is quite pretty
Crocodile hunter and the crew
The guide found this king snake in the tree/bushes as we were going down the river, impressive!
We did manage to see his head, just barely
Another croc further down the river, #2!
We saw this guy swimming and thought it was a small croc, but it was a 'river dragon'
A lot of birds call the river home, too
Water lilly (the white flower)
And... croc #3!
Very much aware of our presence
A better idea of his size. Appears well fed!
No shortage of poisonous stuff in Australia
We drove north as long as you could go. From here on (northern Cape Tribulation), there is a 4WD road to Cook Town. Have to go back for that :)
The beach next to where we camped
Lots of cute birds
The cable ferry you must take to go to Cape Tribulation
Liked this beer, as well as several others, but nothing dark
A view over Port Douglas and 4-mile beach
Swings never stop being fun
Continous drooling over LandCruisers. I tried not to take 500 pictures, but couldn't resist this 70's series ambulance...
How can one resist?
Crocodile, kangaroo, barramundi and emu. Yum...
Our room aboard the Pro Dive boat (Scuba Pro). Awesome compared to everything else so far!
First dive!
2nd dive
3rd dive
Our view of the reef was similar to this over the whole time, pretty clear water!
Next dive
Lots of diving in 3 days!
Moved to a new reef: Flynn
Night dive on the 2nd day. Unfortunately we couldn't find Brian, the giant turtle... hard to navigate at night!
More diving at Flynn reef...
Why is it named Tracy's? Long but amusing story
Sticker in a store in Cairns...
Previous Page