Peru
Cordillera Blanca
June 9 - July 7 2007
The trip preparations and packing were pretty hectic, as expected. Thankfully, Nadine had reminded me about vaccines months before the trip, so I had done that already (I had to remember to take the Dukoral two weeks prior to leaving). I had also made a trip to Bulgaria in early May, and then I was busy with an OpenBSD hackathon, which left me with a week to buy last minute things and pack. I had two duffel bags, each weighing no less than 50lbs. And then, next thing I knew, we were flying!
Lima - June 9-10 (pictures)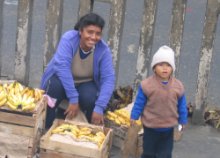 Arriving in Lima, the entertainment started already while waiting for our luggage. We were greeted by dozens of girls wearing tight clothes trying to rent us cell phones. It was amusing how aggressive they were, and I didn't see a single person actually take interest. On the other hand, Lima is the only airport where there is security which checks whether your baggage tags match the ones on the picked up bags - that was a nice touch (but don't throw away your ticket until way outside the airport). Outside, it looked extremely foggy and dark, a bit intimidating for the tired traveller. Thankfully, I had arranged for Cosy to come pick us up, and she got us a mini bus taxi to accomodate the 6 huge bags. A 30 minute ride later, we were at Casa Marfil, settling into our rooms! The house was very cozy and clean, and we showered before getting a good night's rest. The next morning we bummed around the neighbourhood for a bit and bought some food, then caught a taxi to the Movil tours station to catch the bus to Huaraz. About an hour after leaving, still in Lima, our bus broke down. After unsuccessful attempts to fix it, we got a replacement. Once we were out of Lima, the road followed the coast for about 200km before turning off into the mountains, where it was to go over 4000m in altitude before dropping to Huaraz. Of course, the replacement bus kept stalling on the steep mountain road, but eventually we made it to Huaraz, quite late.
Huaraz (3100m) - June 10-12 (pictures)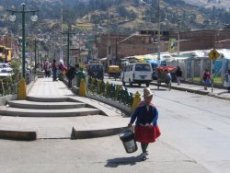 Surrounded by amazing high mountains, Huaraz is a bit like Canmore in Canada, a cute town and a gateway to outdoor adventures. Since we arrived in the dark, we couldn't see anything... but in the morning, once we got up for breakfast at the amazing patio at Olaza's, we went completely silent for a few minutes just soaking in the views. The next few days had us running around town acquainting ourselves with it and buying things we could not bring, such as fuel. It is necessary to stay in Huaraz for a few nights to acclimatize if you are coming from a low altitude - simply running up a flight of stairs will remind you of that.
However, after looking at these mountains for a few days, we were itching to climb something. Based on many folks' recommendations, we hired a cook to both watch our stuff in base camp, and well, feed us. We headed into the Llanganuco valley (pictures), and setup camp in Cebollapampa - it is conveniently 5 minutes off the road, so there was no need to hire donkeys to move our stuff.
---
Cebollapampa camp (3900m) - June 13 - 21 (pictures)

This was our home for the next 9 days, and we were the only group in the meadow, yay! By the time we left, there were 5-6 other groups, as the season picked up. As soon as we setup our tents, Shower (pronounced Sho-ver, this was our cook) made us an incredibly tasty fruit salad. It was 3pm by now, but we decided to hike up the trail to Pisco base camp to acclimatize a bit and get some views.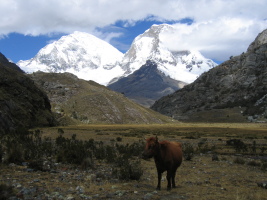 Unfortunately, that night Chester couldn't get any sleep, due to periodic breathing. The next day we went to Laguna 69, a popular dayhike with 700m elevation gain. Not feeling satisfied with the amount of work done already, Chester and Marta insisted on ascending to a pass that connects to Pisco base camp. As it turned out, this was a lot longer than anticipated, and we all got mild signs of AMS as we went over 5000m. When we returned to camp (at sunset), I got a headache and lack of apetite, but with the help of a lot of Coca, an hour later I had forgotten it all, and had an awesome 10+ hour sleep. Unfortunately, Chester didn't sleep again.
The following day, Marta and I went to scope out the approach to Yanapaccha, as another day hike to speed up our acclimatization. We returned and ate a huge tasty meal.. having a cook rocked! Chester had taken a rest day, and realized that he had bronchitis. The next day he went down to sleep at Yungay for 2 nights, taking antibiotics that Marta had brought with her from Canada. The same day, me and Marta packed up our bags and loaded them on a couple of donkeys, heading to Pisco base camp.
---
Pisco (5752m) - June 16-17 (pictures)
We arrived at the Pisco base camp around 15:30, and our donkeys were already there. There was only one other tent, and it was a group that had just descended. There weren't going to be any crowds this time! We made dinner and went to bed around 18:30. I slept straight through to the alarm at 1:15.
We had breakfast and tea and started shortly after 2am... the moraine really sucked, and it was tricky following the cairns in the dark. We did a good job route finding until we got to the lake... there we foolishly followed cairns down to the water, and along the shore of the lake. Instead of backtracking early on, we thought we would be able to meet back with the regular trail, but the steep moraine was impassable, and we ended up backtracking anyway - with a good 2 hours and a lot of energy wasted. By the time we made it to the snout of the glacier, it was already light and we were exhausted from the pointless detour. Around 10am, we were at 5500m and going really slowly, so we decided to turn around. The way back through the moraine sucked, but we made it down and all the way to Cebollapampa that afternoon.
---
The next day was a rest day. A group of 3 Americans from Colorado (Tom, Tom and John) showed up in base camp. They planned Yanapaccha and Chopicalqui, which matched our next plans. Chester came back at midnight, as there was a huge father's day party in Yungay and he couldn't get any sleep at the hostel there. Unfortunately he still had periodic breathing once he returned up high, and his bronchitis wasn't getting better, so him and Marta decided to go to Huaraz and do other things for a while. I asked the Americans if I could join their team, and they were game. I was really happy, as otherwise I would have had to go back to Huaraz as well, and look for partners there. That night I hung out with them, and we seemed to get along well. John taught us how to play Euchre, and we played a few rounds before going to bed.

Being alone with Shower, it meant I had to use my Spanish a lot more now, which was good. Shower was a history teacher at a school in Huaraz and took two months off during the tourist season to cook - so we had lots of interesting conversations over the course of the week. My Spanish was slowly getting better. I also ended up eating through all of the food meant for 3 people, despite being alone.
---
Yanapaccha (5460m) - June 19-20 (pictures)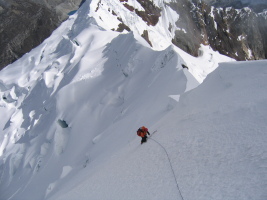 Shower volunteered to help us carry some stuff the next morning, and we all made it up to moraine camp fairly quickly. Thankfully, Maximo (the other cook) had climbed Yanapaccha previously, so he knew the way, because the guidebook information was outdated and there was a better route. He had shown the way to the others on the day before. We arrived around 14:30 which gave us a bit of time to setup and chill. We met another group there - Mark (a guide, living in Vermont), a Peruvian guide and 3 clients. We talked with them for a bit, and Tom and John went to scope out the beginning of the route onto the glacier... soon after that, it was bedtime. Moraine camp was at 5000m, and I slept awesome, being a bit exhausted from the day's work to get there.
3:30am: we are on our way after a drink and some food. I got ready first at the base of the ice, and fired off the first pitch onto the glacier - it is quite steep for the first 10 meters, and then eased off. I pounded in a picket at about 40 meters, and belayed John up. The others followed and we formed a rope team of 4 for the glacier. Quite quickly we arrived at the face, and switched back to two teams of two. At one point John was leading and trying to find a place to cross the bergschrund on the right side, when he dropped his headlamp. He was almost directly above me and I heard something sliding on the snow - with two sideways steps, I reached with my ice tool and snagged it with a swing of my pick. It was one of those sweet moments. Our route didn't go, so we downclimbed to join the others at the spot they had found on the far left. Crossing the bergschrund was one of the scariest thing I've done - it was huge, and the bridge wasn't particularly well-travelled, but it supported us. To get onto the face, you had to plunge both tools' shafts and pull up, meanwhile trying to find a foothold that supported bodyweight - then you could move up. We pitched out the terrain, even though we originally intended on simulclimbing. Now we were in the clouds, and it was cold and very windy as well. Soon we were at the ridge. From there, one pitch (with a scary 70 degree step of snow onto the ridge) and we were onto the summit!
To descend, we did a combination of solo downclimbing and rappelling (nobody wanted to downclimb the bergschrund). I did a quick Abalakov to get off the steep lip of the glacier, too. We quickly made it back to camp, and me and John packed up our things, heading back to Cebollapampa. I was tired, but the thought of a Shower meal kept me going - and it was well justified, as it turned out! The two Toms stayed in camp for the night and joined us the next morning.
---
The following day was going to be the last we had paid Shower for, so I was debating whether to go back to Huaraz for a night too. In the end, that's what I decided on, and we took a taxi in the afternoon after collecting everything. I left the Americans in camp with their cook (Maximo) - the next day, they were going to move everything with donkeys to Chopicalqui base camp, and I planned to join them there.

Arriving in Huaraz, I hadn't showered for 10 days (outside of washing in the creek a few times), so I took a really long shower, which felt amazing. Then I was on the computer talking to Parisa for a while, when Chester and Marta came back from dinner. I quickly convinced them to go out with me again for a drink, while I had a belated dinner. I told them about my plans, and since Chester was feeling a lot better, they were considering going into Ishinca valley to climb there.

The next day, I had arranged for the same taxi to pick me up at the hotel and drive me to Chopicalqui base camp. After getting to the trailhead, it was an easy 30 minute hike and I joined the others. They were happy to see me, as I carried 5 fresh trouts for dinner that I had gotten at the market that morning.
---
Chopicalqui (6354m) - June 22-27 (pictures)
We spent the next day resting, eating and fending off cows in base camp. I was up late on the computer in Huaraz the previous night, so I enjoyed catching up on sleep in my tent. Then the following morning it was time to go, and we moved up to moraine camp, with the help of Maximo to carry some of the group gear. We planned to summit the next day, directly from moraine camp, getting a very early start. Unfortunately, the weather got bad - no visibility, and it started snowing! I got up at midnight to check the weather, and it was still dumping, so I happily returned to sleep. We had food for an extra day, so we stayed in camp, hoping for an improvement. One of our only sources of "entertainment" was getting water to drink and cook. It involved scrambling to the base of the glacier to get meltwater, all the while being underneath big granite rocks barely attached to the ice, and huge seracs. Now it is funny, but at the time it was terrifying, and needless to say the process was very expedient.
Thankfully, the next day brought better weather, and we got up at midnight, departing a little before 1:00am. The day before, a couple of British folks had arrived, and we decided to go for the summit at the same time (if our paces matched, which they did). We had all cached our climbing gear at the base of the glacier, so we quickly hiked to there and geared up. Climbing up, we had the pleasure of a clear sky and a full moon, which was one of the most beautiful things I can remember. In the far distance we could see the lights of Huaraz. We were moving quite efficiently and soon got to the bergschrund, after passing a couple of teams. I would highly recommend the light and fast style, skipping high camps whenever possible. It makes for longer days, but otherwise you are humping big loads on your back. The terrain after the bergschrund was not very difficult and we were simulclimbing altogether (the 4 of us). After some slogging up steep snow, we got to the notch before the final 50 meters to the summit. At this point, John hadn't eaten anything all morning, and despite drinking lots of fluids, he looked really bagged. The rest of us were getting tired too. We knew we already had a complicated descent to get off the steep parts, and didn't want to risk getting more tired as the risk of a slip would have increased. So we hung around for a few minutes, and decided to forego the true summit (as did all the other groups that day). We downclimbed to a fixed station, and from there 2 rappels took us to the easier terrain. In the meantime, it is worth mentioning how cold it was - while downclimbing the top section, I nearly lost feeling in my hands, and then got the worst screaming barfies I have ever had (even ice climbing in Canada)... ouch!
The descent went by really quickly, and after crossing a few really dodgy snowbridges on the lower glacier, we were back in moraine camp. We all packed up and descended all the way back to base camp... a long day! Maximo waited for us with snacks and a dinner of chicken curry (made of our pet chicken that was walking around camp until that morning).
---
The next day saw us pack up and return to the trailhead. There we took two taxis to Huaraz, where we enjoyed a shower and stuffed ourselves with large quantities of quality food at Siam de Los Andes. The owner, Naresuan, is locally famous and cooks amazing Thai dishes. In addition, he is extremely friendly and this makes his restaurant a favourite to many tourists! Since we had just returned from the mountains, it was great to go back to our hostels and get some sleep.

Since my friends were leaving Huaraz the following day day, I was left partnerless again, so the morning found me running around leaving notes through the town. Among other places, I left notes at Casa de Guias, Cafe Andino and Cafe California, and I eventually got responses from all of them. However, that took a few days, and is not how I found a partner - I actually chatted up someone at the street randomly, and that is how it worked out. Anyway, that evening I had a huge pizza dinner with Tom, his wife Patty and the other Tom, after which I was thinking of retreating to bed early for once. However, I decided sleep can wait until I get back to the mountains, and I went to El Tambo, a famous dance club that I had wanted to check out. I danced for an hour before I was quite tired, and went back to my room to collapse.

The next day I met with my new-found partners that I was going to attempt Artesonraju with. Chad (the one I had chatted up) was actually stomach sick, and was probably not going to make it, but Stewart was itching to go and seemed very energetic. We arranged a taxi for 9am the following morning. Of course, the day went by really quickly and as usual, I leave packing for trips to the very last minute. It was 23:00, and I was on the computer sending emails and feeding my addiction... thinking I should go pack soon. At that time, Tito (the hostel owner) came by and dragged me out to drink at his brother's newly opened bar, Voodoo Lounge. Since it was the opening night, many were there, and I was surprised to see several familiar faces. Among them was Naresuan, and we were chatting for a bit drinking our beers, when it turned out that his best friend was Bulgarian! When he found out I grew up in Bulgaria, he jumped in surprise and hugged me, after which followed a very interesting life story and conversation. Next thing you know, it was 2am, ouch! My taxi was in 7 hours, and I still had a lot of things to do. Of course, instead of going back to the hotel, I remembered that my Colorado friends were at the Tambo tonight, being their last night in town. So I decided to go say good bye to them, and me and Naresuan headed there. We quickly ran into them there and after the mandatory song dance, some of us headed back to the hotels. Now was the hard part: packing! That took me a while, but eventually I went to sleep at around 4am.
---
Artesonraju (6025m) - July 1-4 (pictures)

7:30am: alarm goes off, ugh! A nice refreshing breakfast with a big french press of coffee at the patio was all I needed to wake up, and I went to clean out the room and organize the luggage destined for the storage room. At 9am sharp, we were loading the taxi with our heavy (30kg) backpacks and jumping in. Chad was still sick and stayed in the hotel, thinking he might catch up to us the next day if he felt better. The ride to Laguna Paron (our trailhead) was just a bit over 3 hours, a lot faster than I expected. After registering with the park rangers at the trailhead, we set off, under the tremendous loads on our backs. We made it to a beautiful camp in trees about half-way up to moraine camp, and decided to settle in for the night there. The views were astounding, and we were very impressed that we had the whole valley to ourselves! We cooked dinner and watched a spectacular sunset before settling in for the night.

The next morning we witnessed something really neat. There was a small stream flowing through our camp, and according to Stewart, at about midnight the stream stopped. When we woke up, there were some pools that had a layer of ice at the top, but otherwise no creek. At around 09:15, we heard a loud sound, and witnessed the creek come back with a huge wave of melt water leading the way - wow, impressive! I have seen rivers and creeks in Canada significantly change their volume through the course of a day, but never before had I seen a creek go from 0-100 in seconds.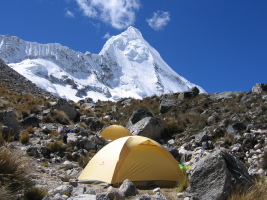 We lazily packed up and headed the rest of the way to moraine camp. I had found out that in my late night packing, I had forgotten to bring a sleeping pad. Thankfully, both me and Stewart had Cilogear backpacks, which have bivy pads as part of the suspension system. With the rope carefully coiled underneath the two pads, this provided plenty of insulation and I hardly noticed the difference (witnessed by my 12 hours of straight sleep). After we setup moraine camp, we went to scope out our approach on the flat Paron glacier. Unfortunately, we were completely confused as to the line we were supposed to be climbing... should have brought a photo copy of the guidebook pages. In retrospect it was extremely obvious, but who knows what we were thinking.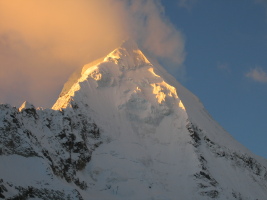 Chad joined us in the afternoon as well, but he ended up not feeling well enough to climb, so he stayed in camp. We woke up at 23:15, and lazily had tea and breakfast, leaving at about 12:30am. The last team I talked to had taken 18 hours round trip from a high camp on the glacier, so we wanted to leave ourselves lots of time. It was a beautiful night with a full moon... it felt awesome! We made it to high camp on top of the glacier in 1 hour, which was really good time. And here is where we made a big mistake - instead of following the big trail leading us to the bergschrund in 45 mins (would have been there at 2:15), we kept going straight on the glacier. For some reason we thought we should go to the col between Paron and Artesonraju, heading for the face on the other side. We justified that the trail we saw must have been people checking out the South Arete variation described in the book. All of the information we had spoke against this, but it is hard to understand what we were thinking. Either way, we were headed completely the wrong way, and eventually realized it. Having gained a lot of elevation by that point, we decided to traverse under the face to the start of the route, backtracking horizontally on the broken glacier. Other than the fact that it went up and down quite a bit, which was exhausting, it was fairly straightforward... until Stewart fell into a crevasse up to his neck. He quickly climbed out and we were soon at the base of the SE face, except it was now past 5am! We had wasted over 2.5 hours and a lot of energy. We planned on soloing to the upper crux pitches, but since we were tired and the beginning looked rocky in the dark, we opted to simulclimb for a bit before putting the ropes away. We made it about 1/3 up the face and were getting to be extremely slow, the snow conditions being fairly difficult, so we made the choice to head back. We were pretty exhausted from our mistake and didn't want to push ourselves too much, as we would have had to rappel in the dark at that point. Back in camp at 11am, we enjoyed some food and then a short nap before we prepared dinner and retreated for the night. Despite not making it, it was still a great experience just being partway up that mountain.
The last morning we had in camp, we woke up and I ate almost all of my remaining food (which took a bit of time, I was stuffed), then slowly packed up. The hike out went by quite fast, even though the last stretch along the lake felt long... We powered through it quickly thanks to the music blasting in our mp3 players. The most amazing part came at the trailhead, when we had to wait for our taxi driver for half an hour - the park wardens were selling beer, and it was nice and cold too! It tasted amazing... and next thing you know, our ride to Huaraz had arrived. The drive back was uneventful, other than a police stop where our driver bribed the cops with S/.2 (70 cents) since he did not have a permit to operate in the district - very amusing.
---
In Huaraz, I first jumped on the computer at Olaza's, as was usual. Then after a shower, I took the night as an opportunity to stuff myself with some cuy (guinea pig) and two crepes and an avocado milkshake until I felt like I was about to explode from food (despite doing this every time I was in town, I lost 10lbs on the trip). Peru is famous for the cuy, and it is definitely something to try. I found the meat quite fatty but I really liked it. Probably not something to base your diet on, however...

The next day I rested and chilled around town with Kevin and Less from Colorado that I had met on my first day in Huaraz, and met again at Olaza's. We had lunch and chatted for a long time, as they were leaving on the night bus and had all day to kill. In the evening, I made plans with Stewart to go to the Chavin ruins the next day. In the morning I was again amused by the garbage truck passing through our street... and everything being piled on top of it to such a great height, that the two men on top have to lift the powerlines as the truck is driving through. Only in those parts of the world can you see things like that! Since it was July 4, we went to the Satyricon and saw Dr Strangelove. It felt like escaping Peru for a couple of hours and just zoning out.
---
Chavin de Huantar - July 5 (pictures)

We got picked up at our hotel at 9:30 sharp (per schedule!) and soon embarked on the long bus ride to the ruins town. On the way, we stopped at a beautiful lake on the side of the road - Lag. Querococha, where everyone jumped out to take a picture and stretch out the legs. After driving through an impressive tunnel, we were soon descending the steep road on the other side of the pass, and thankfully we made a restaurant stop before embarking on the tourist site. A much needed huge portion of chicken and fries in our bellies, and we were back on the bus.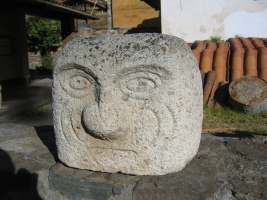 The ruins are a bit underwhelming at first, but all the good stuff is underground. That is because most of the structures have been destroyed by great earthquakes and mud slides that have hit the region. The main building (the Castillo) contains a complex system of tunnels and underground chambers that are quite fun to explore. In the heart of one of the rooms is a carved rock slab (about 5 meters in height) that is known as the lance of Chavin - the main god of the Chavin religion. It is a cat of some sort (cougar?) but has elements of humans and condors. Built around 900 BC, the whole site is quite impressive. Based on Nate's (a friend of Stewart) suggestion, we brought headlamps, and once inside, we found some sewage channels and other nooks and crannies to crawl into. We started getting deep into some of them until they got too constricted and we chickened out. This was tons of fun and we got pretty dirty.
Very interestingly, the Chavin used hallucinogens. Some of the rooms in the ruins were designed to echo the winds and sounds of the river in such a way that it was believed they were designed for the non-believers. On hallucinogens, they were placed into these chambers and shown that there was indeed a higher force they should believe in. I found our tour guide explaining this to be a bit amusing, since present day Peru is quite religious. The Chavin weren't warriors, since there were no weapons found at the ruin sites, but they influenced much of the art and cultural development in Peru at the time.
We also checked out the small museum, which was full of stones carved to resemble human heads. After getting the most out of this very interesting ruins site, we all crammed back into the small bus and made the long drive back to Huaraz, where tasty pizza awaited us for dinner.
---
Mountain biking - July 6 (pictures)

On my last day in Peru, I went mountain biking with Julio Olaza which was really sweet. We took a taxi to get us up to the Cordillera Negra, and we traversed for 14 km on an old dirt road, soaking in the incredible views of the Cordillera Blanca on the opposite side of the valley. This was the chill part, before we dropped down towards the city. Julio did an amazing job linking some really fun technical riding for us, which me and Ed (British dude who came riding as well) asked for. From sweet singetrack to non-existing trail over boulders, at some points the trail went through traditional Andean villages, which was absolutely beautiful. We rode on ancient trails that have existed for centuries linking the tiny communities, and they provided surprising technical challenges. On several occasions I walked my bike, not wanting to risk a nasty fall. Even the more peaceful sections were far from boring, as we were riding between farms, dodging piglets and chickens, having the local kids scream "Hola!" at us with huge smiles.

That is one thing I most liked about Peru - no matter how poor most people are, they sport huge smiles and appear to live very happy lifes. The children in particular were unforgottable! As we passed through a small community, a small girl yelled "Good morning!" at me in clear English. The other girls were all giggling and looked at her with respect, all of them laughing. This attitude is something gringos should learn from...

Overall, the ride was a great experience and an amazing way to spend my last day there.
---
In the afternoon, I was scrambling to buy gifts, as I had left this to the last minute. Tito said it was my last night in town, so I had to go party, which I didn't resist. At 11pm, the two girls we were waiting for rang the door bell, and we all headed to Voodoo Lounge for drinks. One of them didn't speak any English, and I had to use Spanish to communicate, which was pretty tough as she spoke really fast. I found I did OK when talking to people one-to-one and they spoke more slowly, but keeping up with a conversation at a bar with music in the background was a bit much. Nevertheless, the night got along (with some translation help from Tito) and a couple of hours later we ended up at the Tamboraju to dance. Funnily, I ran into Ed there as well (the fellow I went biking with), and generally the place was packed. We danced for a few hours, taking breaks to cool down with a beer from the hot dance floor. At about 4am we went to get some food and at 5 I was finally in bed.
Getting up at 07:30 was brutal, but it had to be done. I finished packing and had breakfast before I had to go to my 11:00 bus to Lima. While going to breakfast I ran into Brad Johnson, the climbing guidebook author. While going for breakfast, I made the typical mistake of locking myself out of my room (I was still asleep, that's my excuse). Of course, since I was staying in a room in Tito's house and not the hostel proper, he didn't have a copy for the key (after looking through a box of dozens of keys). The clock was ticking and I was getting scared of missing my bus, and Tito felt this so he assured me "Don't worry Peter, my brother has a trick". I tried not to panic, and a couple of minutes later, he came back with a sheet of an old X-ray and worked it into the door, then voila! I sighed in relief and got my stuff out, then sent Parisa and my parents a quick last email before heading off. In retrospect, locking my door was pretty pointless there, since it was quite safe.
---
Bus ride to Lima - July 7 (pictures)
I had booked my ticket with Cruz del Sur a few days earlier, so I had reserved a front seat on the 2nd level of the bus. Right at the windshield, this provided great views of the return journey, and I took a bunch of pictures. At first, we got some views of the Cordillera Huayhuash in the distance, after which the road descends to the ocean through a lot of switchbacks, passing through many small communities.
After entering Lima, it takes almost two hours to get to downtown. 45 minutes into the city, the bus made a stop, and we were wondering what is going on. Thankfully Pablo who was sitting next to me and lived in Lima told me that we were really close to the airport. Even though it wasn't an official stop, I convinced the bus operators to take out my luggage and let me go there, and I hopped onto a taxi. Twenty minutes later, I was there! My flight was at 23:30, so after reading my book for half an hour, I could finally check in my 100lbs of luggage and go through the crowds at security, when I could finally relax.
The trip went by really fast, and I can't say I was happy to leave! With the transport time substracted, I had 4 weeks in Peru, and I think the ideal time would be 5 or 6. It takes a couple of weeks to fully acclimatize, which makes staying longer seem logical. However, a big part of me was also happy to go home and spend some time with family and friends, since in a month I am moving to California!