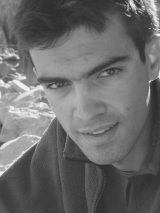 My Toyota LandCruiser!

1984 BJ-60, 2.5" higher than stock Belton suspension, 31" Dueler MT's

I sold Lola in August 2008, this page remains for memories. She is now roaming around Napa, CA, with exciting trips planned.

This was my beloved truck, named Lola, that I owned for 6 years. I bought it with 360,000km, and drove for over 100,000km! I took it to some rough places, and covered large distances, and despite the punishing conditions I often put it through, it always brought me back. LandCruisers rule! In this process I became very attached to this truck... despite how slow, rusty, and noisy a lot of people thought it was. :)
Stats:

3B 4 cylinder NA diesel engine, 90 hp (3500rpm), 160 ft-lbs (2200rpm)
H55F 5-speed transmission with 5:1 low first gear and 0.85:1 overdrive
2-speed transfer case, 2:1 low (part time 4 wheel drive)
3.70 gears in diffs

It was basically a stock vehicle, other than these improvements:

Australian Belton suspension, 2.5" higher than stock
Bosch H4 headlights with relays, see diagram
Webasto Thermo top C diesel furnace for the winter
Bridgestone Dueler M/T 31x10.5x15 tires
ARB front bumper, CrushersRule rock sliders

I kept a log of the maintenance history here.
Selected pictures:

There is such a thing as having a name that is so great that the actual thing or person is unable to live up to the name. The Land Cruiser name has reached grand proportions as a 4X4, yet it has continuously lived up that name in extreme enviroments around the world even down to the South Pole, earning a reputation over a period of 50 years.

In that sense the name Land Cruiser is most appropriate to this vehicle. Think about what it means to be a Land Cruiser owner. It means to have the privilage of driving a Land Cruiser and wrapped in it's history. When you stand in front of a Land Cruiser you are looking at a survivor of 50 years of hard and well-earned development, loved by people around the world, thoroughly representing the spirit of post-war Japan, possessing an almost mythical degree of reliability and durability, certainly a source for pride for any owner.

To drive a Land Cruiser is to vicariously drive the rough roads of the entire world over the last 50 years, to ride in the drivers seat of a real chariot. What other 4X4, indeed what other passenger car can take you to that special place?

(Nobby Fukushima 2001) (from the 50th Aniversary book, on page 190)